Kıvanç Sezer, whose first feature film sparked great interest in international film festivals, endorsed BDS's cultural boycott call and rejected the invitation for his film to be shown in Haifa Film Festival by stating that he supports the cultural boycott of Israel.
My Father's Wings directed by Kıvanç Sezer, which is one of the first feature films about deaths during work accidents, tells the story of construction workers' tough lives. The film which will come to the theatres within the next months, had its world premiere in Karlovy Vary, one of the most prestigious film festivals in Europe. Here the film captured the audience and got a positive feedback. Director Kıvanç Sezer rejected Haifa Film Festival which was interested in the film after the positive reactions it received and got into contact with him; declaring that he is adopting the call made by PACBI, which forms the academic and cultural section of the BDS movement, for the cultural boycott of Israel.
As BDS Turkey, we congratulate Kıvanç Sezer on the decision he made. While the occupation of Palestinian lands by the illegitimate Zionist formation continues, especially in these days as the ongoing struggle of Palestinian captives in Israeli prisons against the occupant force has reached an significant stage, the decision he made is an important response to Israeli cultural institutions whitewashing the occupation. A while back, another director whose a friend of the BDS, Can Candan, retreated his film, My Child, from the 26th Vancouver Queer Film Festival and declared his support for the boycott call BDS made. We hereby repeat our call for all the Turkish directors and producers; according to the academic and cultural boycott principles determined by PACBI, to avoid participating in any academic or cultural cooperation or joint projects and to support Palestinian academic and cultural institutions directly -not being openly or cryptically conditioned on cooperation with Israeli equivalents- until Israel withdraws from the Palestinian lands it occupied in 1967, the Palestinian refugees' right return to their homelands according to UN's decision number 194 is recognized and the discrimination against Palestinian citizens of Israel ends to ensure equality for all.
Who Is Kıvanç Sezer?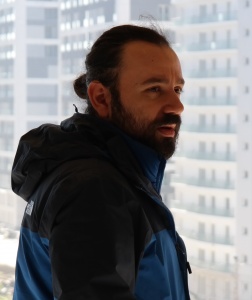 Kıvanç Sezer, born in Ankara in 1982, studied screenwriting for two years in Cineteca di Bologna in Italy, after finishing his engineering education in Ege University. During his time in Italy, he was very interested in Italian cinema. Sezer returned to Turkey in 2009 and started working in the cinema-TV sector. He directed and did screenwriting for numerous short-films and documentaries displayed in many national and international film festivals. My Father's Wings is his first feature film.
bdsturkiye.org